recent news
archive news
Subscribe to
Posts [Atom]
Tuesday, August 4, 2009
Monday, August 3, 2009
Another Party? In the alley?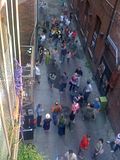 Yep, you read correctly.
The marimba band that rocked the Nord Alley Party during July's First Thursday will be back for the August one (Aug. 6). Nzira, which at times has 10 marimbas of different sizes going, will play in the alley from about 6:30 to 8. Wander on by. The alley is behind Elliott Bay Books, extending south from Main Street PAST THE NORD BUILDING TO TEMPLE BILLARDS AT Jackson St. The July 2 party featured original mosaic tile works by the Vashon Tile Build, Nzira's tunes, the alley's historic feel and lots and lots of people.
posted by First Thursday Seattle | 9:25 AM | 0 Comments


Northwest Art Alliance invites you to sign the EVO-WALL in Occidental Park August 6 during Seattle's First Thursday Art Walk.
Evo Wall by Carl Sanden and SFS Crew
The twisty 65-by-20-foot wooden wall-and-door section of the installation will be built in Occidental Square from noon to 4 p.m. Thursday. Art fans can add their own names, notes, and pictures to the work from 4 p.m. to 8 p.m. The artists will be asking for a $5.00 donation to assist in funding the project.
"Everyone is encouraged to add their name to the wall, to build its genetic code of people and ideas," said 31-year-old Seattle artist Carl Sanden, a three-time Burning Man veteran. "And next month it will burn, beginning the transformation into something new that travels the winds. Hopefully it will find its way back home in a new form to share the knowledge it has learned and inspire others to create."
Beginning with toothpicks and twigs on one end, the wall curves back and forth and slowly grows in height until it joins a full-sized door. People can choose a key and walk through the door. When it is rebuilt at Burning Man the door will open into a 40-by-20-foot illuminated dome structure made of plastic pipe, rope, and fabric streamers - providing cooling shade and a relaxing space with Evo music from the 1980s.

Evo-Wall Arial Footprint
"Evo-Wall" is one of only 25 Honorarium Installations at Burning Man, including three by artists who live in Washington state. Every year the festival allocates a percentage of its revenue from ticket sales to fund selected art projects that are collaborative, community-oriented and interactive. "We do this in order to support the Burning Man art community, and to facilitate the creation of outstanding art for Black Rock City," according to the Burning Man Web site,
www.burningman.com
.
posted by First Thursday Seattle | 9:21 AM | 0 Comments