a BIG project on 2nd & Yesler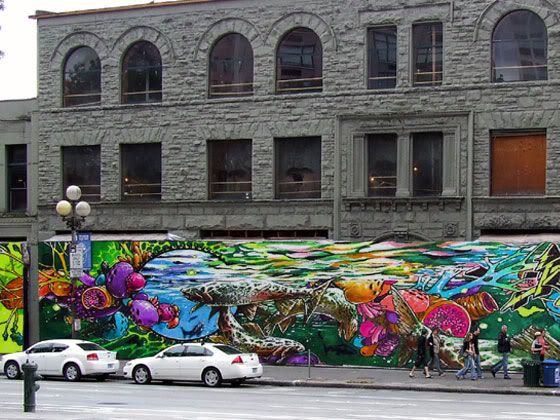 If you have walked by the Metropole on 2nd Ave Ext S & Yesler Way lately, you may have noticed a difference. Previously boarded up by plywood, the building now features an in-process 17ft x 100ft mural. Artist Jeff Jacobson is working with the Alliance for Pioneer Square and the building owner to complete the project by mid-October 2010. The mural is a temporary installation meant to brighten the corner until building construction continues. Jacobson then hopes to relocate the work to another area in need.
The project was started to address the eyesore of the boarded up storefronts. Initial funding to start the project was obtained through the Office of Economic Development Neighborhood Business District grant and the Seattle Public Utilities anti-graffiti grant. In addition, the artist himself has launched a social media campaign to secure the rest of the funding. More info is available at:
http://bit.ly/dn7Fnw
.